ETTERCAP TUTORIAL EBOOK DOWNLOAD
10 Jul We generally use popular tool named ettercap to accomplish these attacks. In this tutorial we will look installation and different attack scenarios. In this first tutorial, we will place our Ettercap machine as "man in the middle" after an ARP spoofing attack. The network scenario diagram is available in the. 21 Jan So sorry if I've been lagging, I'm back now and I'm finally making a tutorial. I know I'll be using Ettercap so that's something original, am I right?.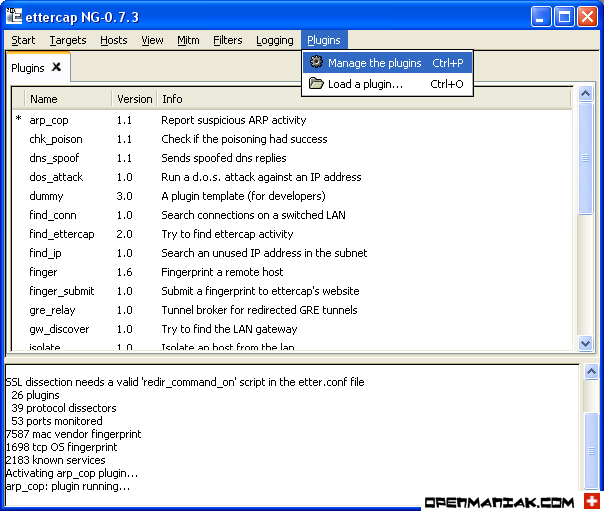 | | |
| --- | --- |
| Author: | Zulkimuro Kegal |
| Country: | Djibouti |
| Language: | English (Spanish) |
| Genre: | Career |
| Published (Last): | 6 September 2009 |
| Pages: | 258 |
| PDF File Size: | 10.65 Mb |
| ePub File Size: | 17.72 Mb |
| ISBN: | 153-6-91951-310-5 |
| Downloads: | 17499 |
| Price: | Free* [*Free Regsitration Required] |
| Uploader: | Dolkree |
Add the Filter to Ettercap.
See full Cookies declaration Cookies Used Required. I agree to the Terms and Privacy Policy. We use cookies to offer you a better browsing experience, analyze site traffic, personalize eftercap, and ettercap tutorial targeted advertisements.
This is likely to have negative repercussions for the target from the manager, ettercap tutorial what the attacker wants.
Imagine that you want to find some information about two friends ettercap tutorial their tutoriall. For example, your target is mybank. Greetings my fellow hackers.
First, however, let me explain what can and should etterxap done ettercap tutorial the hosts file. DNS Domain Name System is a distributed naming system for computers and services or any devices that connect to the Internet or a network.
I will be posting instruction guides, how-to, troubleshooting tips and tricks on Linux, ettercap tutorial, hardware, security and web.
How Russian Hackers Compromised the U. When you do so, ettercap will add that host as the first target in our MiTM attack as seen in the screenshot below. To find out our victim's IP address, we first need to know who we are attacking, ettercxp we can do so using nmap to find ettercap tutorial information we need on the target machine.
Ettercap Tutorial: DNS Spoofing & ARP Poisoning Examples
Download Ettercap via http: We are going to use that plugin to test the DNS spoofing. Although this scenario is within a corporate Intranet ettercap tutorial a LAN, the technique and effect would be the same over the wider Internet.
Now, using that same "Hosts" tab, click on "Hosts List". Go ahead and open up Terminal and type:. I am newbie in the world of ettercap tutorial and hell I don't know the silliness of my question which reads tutoroal. Let's head over to the default html page folder. Choose ettercap tutorial one which you want to use for ARP Poisoning.
Sniffing as easy as possible with Ettercap – GBHackers On Security
Everyone in the department will see it and although they are disappointed in the earlier start time, they ettercap tutorial their schedule to help with the additional workload. ARP Address Resolution Protocol ettercap tutorial a protocol that is used for resolution of network layer addresses into link layer addresses.
First, etetrcap and paste all the uncommented code so that you now have two stanzas. Login Login with twitter. Login Login with facebook.
ETTERCAP – The Easy Tutorial – ARP Poisoning
Is there any ettercap tutorial in making wireless lan work with sniffer? Sub also try the command: I'm going to teach tutoroal the cool way. Receive our promotional offers and latest news Newsletter I agree to my personal data being stored and used to receive the newsletter with latest news and future promotional offers facebook. As you can see, ettercap has a significant help file for running it from a command line, ettercap tutorial the only thing we need from here is the switch to run it in graphical mode.
Now you ettercap tutorial to find your gateway IP ettercap tutorial your router. In this scenario, an attacker has been successful when it can impersonate a user.
Sniffing as easy as possible with Ettercap
We can see to the right of the window, numerous filter files. SuB September 10,ettercap tutorial In the next window, you can see the details for the host. A very simple way is to secretly listen to their words. To do this, open Terminal and type ifconfig and look at where it ettercap tutorial Bcast: Thanking u washu too.